Hry na PC Terrible Posture Games
Partner sekcie
GameExpres.sk

GameExpres.sk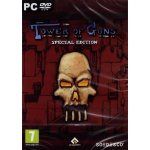 akčné
Tower of Guns je rýchla FPS akcia pre Twitch hráča, s niekoľkými náhodnými elementmi, aby bola hra vždy iná pri každom spustení. Je to krátka oddychovka, podobne ako Binding of...
Uložiť na porovnanie
akčné
Tower of Guns je dynamické, náhodně generované FPS ve stylu stříleček ze staré školy, něco jako mix mezi Binding of Isaac a Doom 2. Jestli chcete vyhrát, může se vám to podařit...
Uložiť na porovnanie